Sometimes we take for granted exactly what a new paint job can do, especially if you're looking at a neutral paint color. If you have had these thoughts before, look at this interior paint job and be completely amazed! We had a lot of fun on this home painting project in Greenwood, Indiana. The residents chose to have the ceilings painted with Sherwin-Williams' CHB (Chicago Home Builders) ceiling paint. The walls have been painted with Sherwin-Williams' Mindful Gray Duration Satin.
The Before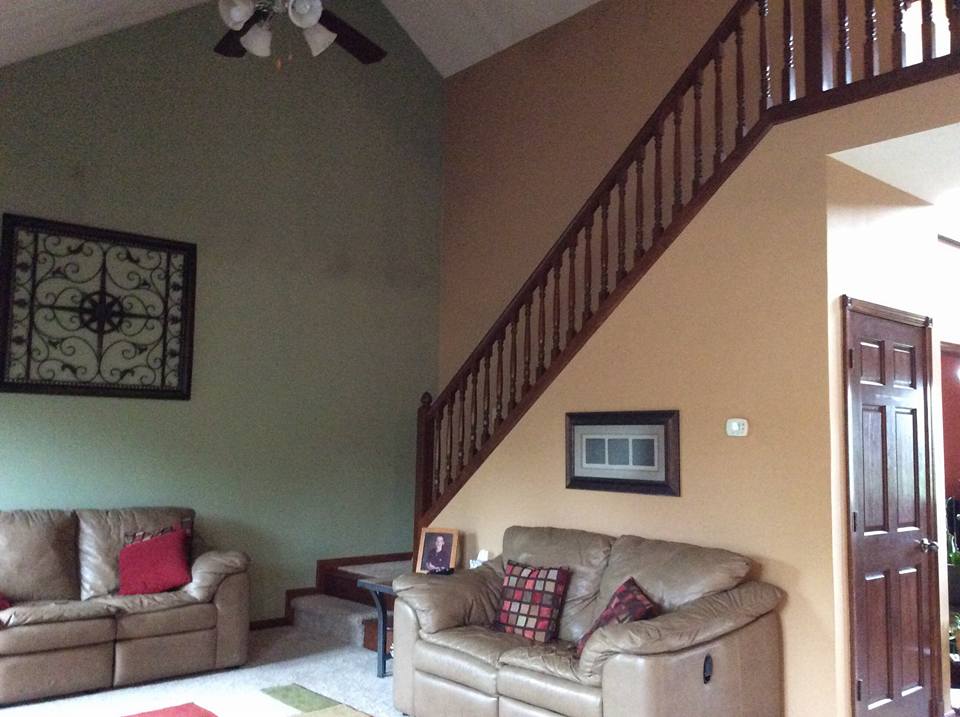 Look at the before and after pictures and you'll be sure to see the difference! The transformation in this room is undeniable. Not only does it look bigger, it also has a unique combination of both open and cozy feels. The two tone walls before didn't add any sort of unique home flair, and the whole room looked one-dimensional.
The After
The room now looks completely different! The gray accent walls would look beautiful behind the "before" artwork, and would work equally well with the furniture and decorative pillows. The beauty of a neutral gray is that it is incredibly versatile while being very much in line with current trends. Additionally, it would be easy for the homeowners to change the decor around the walls if they wanted to make some small changes in the future.
This project was fun and rewarding, and the homeowners are as pleased with their "new" room as we are! If you are interested in a similar project, contact us for a free quote today. Our painters are certified professionals, and our skill and knowledge is unmatched in the Indianapolis area. Even if you know you want something done but you aren't sure of all of the details, give us a call! It would be an honor to work on your project together.
If you're in the Indianapolis area and think that your home could use a fresh interior paint job, give us a call! We'd love to help out. In addition to interior residential painting, we also complete exterior paint jobs, commercial painting, and a number of industrial painting services. Thinking about a project? We'd love to offer you a consultation and give you a free quote. Go ALL-IN!